Our Team
Muchnick Haber Margolis was founded by Todd Muchnick and Aaron Haber to fill a space they felt was missing in law practice. Merging compassion and ambition, Todd and Aaron created a firm that goes above and beyond what clients expect from a personal injury lawyer. In 2012, Josh Margolis brought his unique litigation experience to the firm. Today, Muchnick Haber Margolis pursues complex cases and brings life-changing results to our clients.
Champions for Reparation
With more than 70 years of combined litigation experience, Muchnick Haber Margolis has the expertise to take you through trial, verdict and appeal. Our partners start by breaking down your case — specific facts, parties involved and the nature and extent of the injuries or damages. We also rely on our network of experts and consultants for complex medical issues, product analysis, accident reconstruction, investigation and other liability concerns.
From the beginning, our pledge has been to provide our clients and their families with confident representation that delivers results. It's our dedication that has led to a strong reputation in the St. Louis community and beyond.
Our Team Members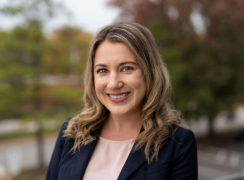 Susan Ferrell
Office Administrator/Legal Assistant
Elisha Nevois-Akridge
Paralegal
Branka Veljkovich
Legal Assistant